Yo guys, what's up! Stay On Beat is back this year on the
12th of May
.
Pretty much everything's the same as last time, we're gonna be at TaKeTV's Gaming Bar in Krefeld, which is about 30 minutes away from the dutch border, and of course everyone's welcome!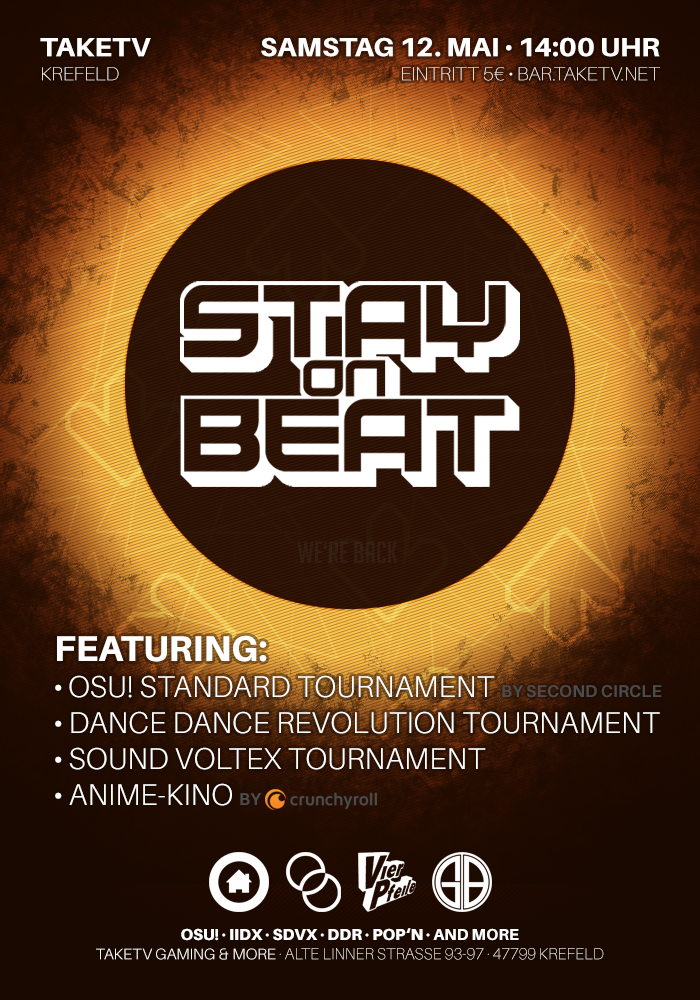 Right now, we're still getting everything ready, but here's a list of a few games we've already confirmed for the event:
DDR Supernova (Cabinet)
Stepmania (Hardpad-Setup)
osu!-Tournament-Setup
beatmaniaIIDX INFINITAS (with DAO Real-Edition Double)
beatmaniaIIDX16 Empress (with FP7)
Sound Voltex 3 eACloud Ver. (with Virgoo Turbocharger)
Rock Band 3 (PS3)
Hatsune Miku Project Diva Future Tone (PS4)
The event will take place from 14:00 to around midnight and entry is 5€ for the entire day. There will also be tournaments in SDVX, DDR and osu!, and the osu! tournament will take place inside the eSports Teamrooms of TaKeTV. There will be 16 Teams with 2 players each, so if you'd like to sign up, make sure you have someone to play with! Signup links are at the end of this post. Of course, the anime cinema will make a comeback as well, streaming you the best from the last few seasons for 8 hours nonstop!
Location:
TaKeTV Gaming & More
Alte Linner Straße 93-97
47799 Krefeld
Time Plan:
Saturday, 12th of May
14:00 Doors open
14:15 Start of Anime-Screenings
14:30 SDVX-Tournament
16:00 DDR-Tournament
17:00 osu!-Tournament
00:00 Doors close
Tournament-Signups:
DDR + SDVX:
https://docs.google.com/forms/d/1aGCwTB ... aSeqx38YPM
osu!:
https://osu.ppy.sh/forum/t/717707
Original post from 2017:
Figured I'd post this here, since Krefeld is pretty close to the border and there might be people from the region who aren't going to DDR-Exp6:



This April, we're launching what will hopefully be the first of many German rhythm gaming meetups at TaKeTV Krefeld! For the entire day, the eSports bar will be filled with rhythm games, and what's more, there's gonna be anime screenings at the TaKeTV cinema as well as a J-Core afterparty with Deshima Sounds and DJ BrainShit and DJ KnuX! Here's a small list of some of the games that will be there:

DDR Supernova (Cabinet)
Stepmania (Hardpad-Setup)
osu!-Tournament-Setup
beatmaniaIIDX INFINITAS (mit DAO Real-Edition Double)
beatmaniaIIDX16 Empress (mit FP7)
Sound Voltex / kshootmania (mit Virgoo Turbocharger)
Rock Band 4 (XBox)
Guitar Hero Live (PS4)
Project Diva F/F2 (PS3)

The event will take place from 15:00 to 02:00 (Afterparty starts around 22:00) and entry is 5€ for the entire day. There will also be tournaments in SDVX, DDR and osu!, and the osu! tournament will take place inside the eSports Teamrooms of TaKeTV. There will be 8 Teams with 2 players each, so if you'd like to sign up, make sure you have someone to play with! Signup links are at the end of this post. Facebook event is here: https://t.co/203YgNg89X



Location:



TaKeTV Gaming & More
Alte Linner Straße 93-97
47799 Krefeld



Time Plan:


Saturday, 22. April
15:00 Doors open
15:15 Start of Anime-Screenings
15:30 SDVX-Tournament
17:00 DDR-Tournament
18:00 osu!-Tournament
22:00 J-Core Afterparty



Tournament-Signups:



DDR + SDVX: ---
osu!: https://osu.ppy.sh/forum/t/564960